About us
Brief Introduction
DLAI has an international perspective, a trusted professional design agency, and a unique combination of architecture, urban design, master planning, landscape design, interior design, gardening and economic development to create unique planning, architectural and landscape design.
Druant team
With a broad range of interdisciplinary analysis and design experience, and actively respond to changing design needs and situations. It covers a wide range of disciplines including industrial economy, development strategy, urban planning, urban design, landscape architecture, architectural design, interior design, art design, environmental protection, traffic planning, water ecology treatment and building energy efficiency.
Core advantages
The main advantage lies in the comprehensive design method and working way, can provide the innovative design idea and the flexible work way to satisfy the customer each kind of demand and the prospect.

"德鲁安"的含义:
"德":德行天下 "鲁":鲁班再创 "安":安得广厦
德鲁安的愿景:具有荣誉感和责任感的现代一流创意规划院。
德鲁安的发展理念:精益求精 创新无限。
德鲁安的服务理念:
务实创新的服务精神:务实是根本,创新是灵魂。
一触即发的服务响应:解决问题要求的是高效率。
专业优质的服务团队:专业是基础,优质是要求。
察敏锐的服务意识:设计需要敏锐的审美和服务意识
谦虚谨慎的服务态度:沟通是解决一切问题的基础。
德鲁安的管理理念:
项目管理:针对项目成立项目专案小组,并有项目经理和设计师同时从事务和技术两方面进行质量控制。
团队管理:团队管理以发展人的综合素质为出发点,让每一个员工在团队的监督和促进下全面进步。
得失管理:在每个项目阶段性成果以及最终结束后,团队和个人都进行得失总结,总结失误,继承优势,不断进步。
时间管理:以效率和时间管理为项目服务的理念,所有后勤和人事安排都围绕项目时间进度管理展开。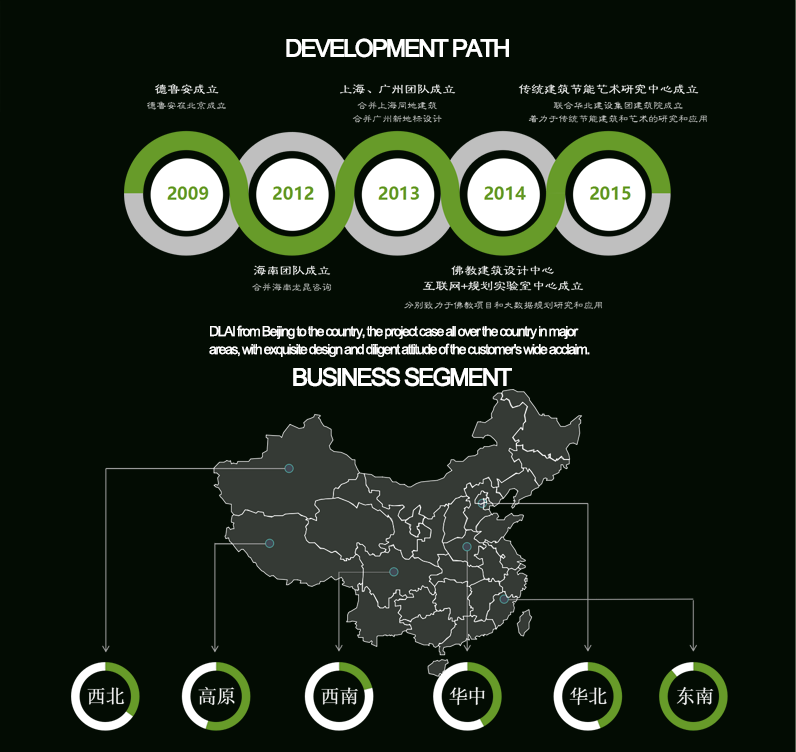 With the "all the way along the" national strategy put forward, Druan's design business has expanded to overseas Nepal.
The Sino-Nepalese Friendship Envoy Aniguo Memorial Hall in the Yuan Dynasty expanded a Chinese Buddhist monastery to identify the modern Sino-Nepalese friendship ambassador to China. Contributions, as well as the memory of the Buddha's mother - Mrs. Maya Kathmandu Moye Monastery.

THINGS WE DON'T DO
Unavailable design
Reckless planning
False items
Design that is not respected
THINGS WE DON'T BELIEVE
Customers are always right
Can not exist
The design must be pretty
Brand is by publicity
THINGS WE DO
City design
Scenic Area Planning
Wisdom Monastery Design
architectural design
Art Design
Interior design
Gardening Design
Green Building Research
Traditional Cultural Studies
Comprehensive analysis
of economic development
product development
user experience
Social Responsibility: Planning Assistance Action
Since 2010, DLAI has launched the annual planning assistance campaign to donate to the temples in need of free planning and design, which has helped many temple temples and impoverished areas in the border areas. From 2010 to 2016, The footprints all over Hubei, Shandong, Hebei, Guangdong, Jiangsu, Zhejiang, Xinjiang, Fujian, Hainan, access to wide acclaim.